H&M Lab Wearable Love
About the project
wearable love is an innovative jacket with which you can send touches to yourself anytime and anywhere.
Whatever is seperating you, be physically close.
Whether long-distance relationship or social distancing – no matter why you can't have your loved ones around you: wearable love helps you to overcome boundaries and brings together what belongs together. We combine our denim jacket with innovative technology so you can feel your loved ones' touch as if they were with you.
Feelings to wear.
With wearable love you send and receive touch as easily as you send messages. Not from just anyone, of course, but from people with whom you are in a deeper kind of connection than your smartphone could ever provide. Every touch remains between the two of you and is not visible from the outside. Apart from your smile.

When distance creates closeness.
Flexible sensors and tactile elements are integrated into the shoulder areas of our denim jacket. These sensors can be connected to our wearable love app via Bluetooth. So, you can easily transmit signals to the jacket that will feel like a touch – and make every heart melt.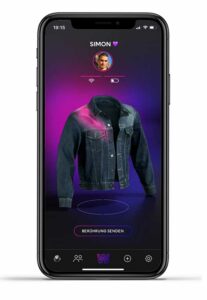 Love on the go.
You will receive a registration code for the app with your wearable love jacket. After you have created your own profile in the app, you can invite your friends to connect with you via love lists. In your profile, you can then create individual touch patterns that you can send to your loved ones' jacket. Let them know that you are thinking about them – from wherever you are.
Learn more: http://wearable.love.hmlab.de/